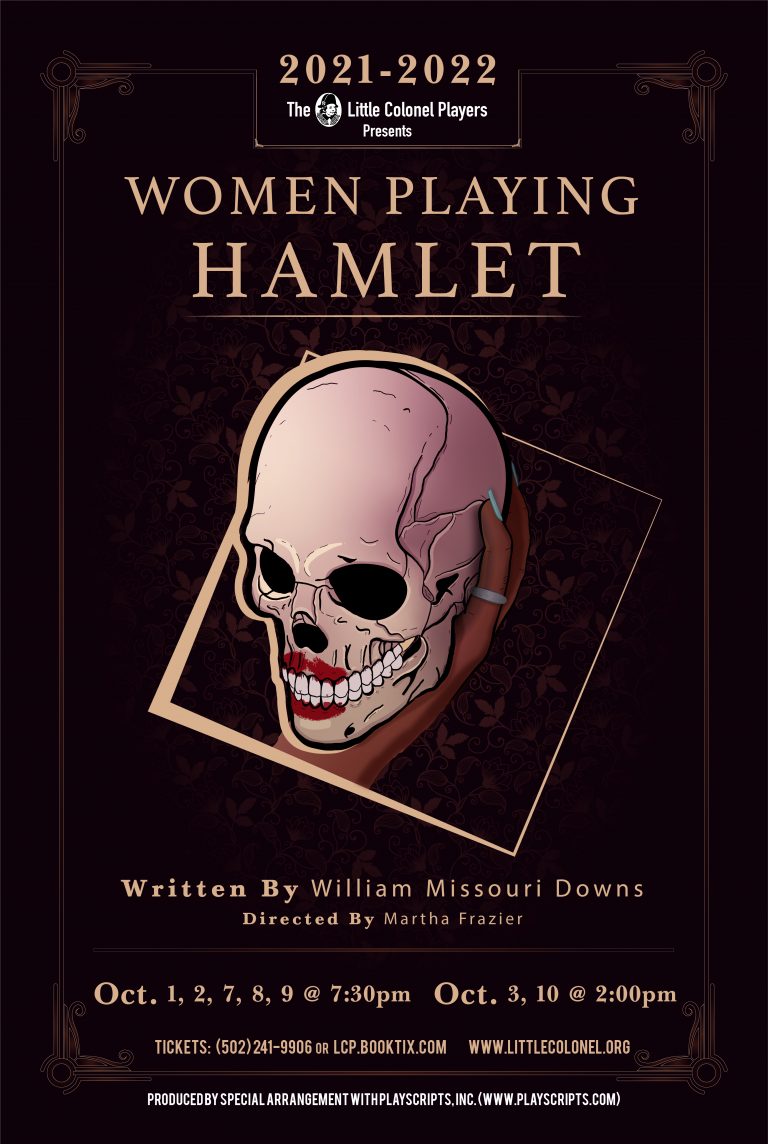 By William Missouri Downs
Directed by Martha Frazier
 Hamlet's a challenge for any actor, but when Jessica is cast as the titular character in a New York production, it sends her into an existential tailspin. It doesn't help that her acting coach is "hard as nails", or that every Starbucks barista with an MFA tells her she's too young for the role. Or that she's somehow managed to make Sir Patrick Stewart her nemesis. Not to mention the fact that she's a woman. How can Jessica figure out "to be or not to be," when she can't even figure out herself? Featuring an all-female cast performing multiple roles, Women Playing Hamlet is rip-roaring fun for Shakespeare fans and haters alike.
PG-13
October 1, 2, 7, 8, 9  Showtimes 7:30 pm
October 3, 10  Showtimes 2:00 pm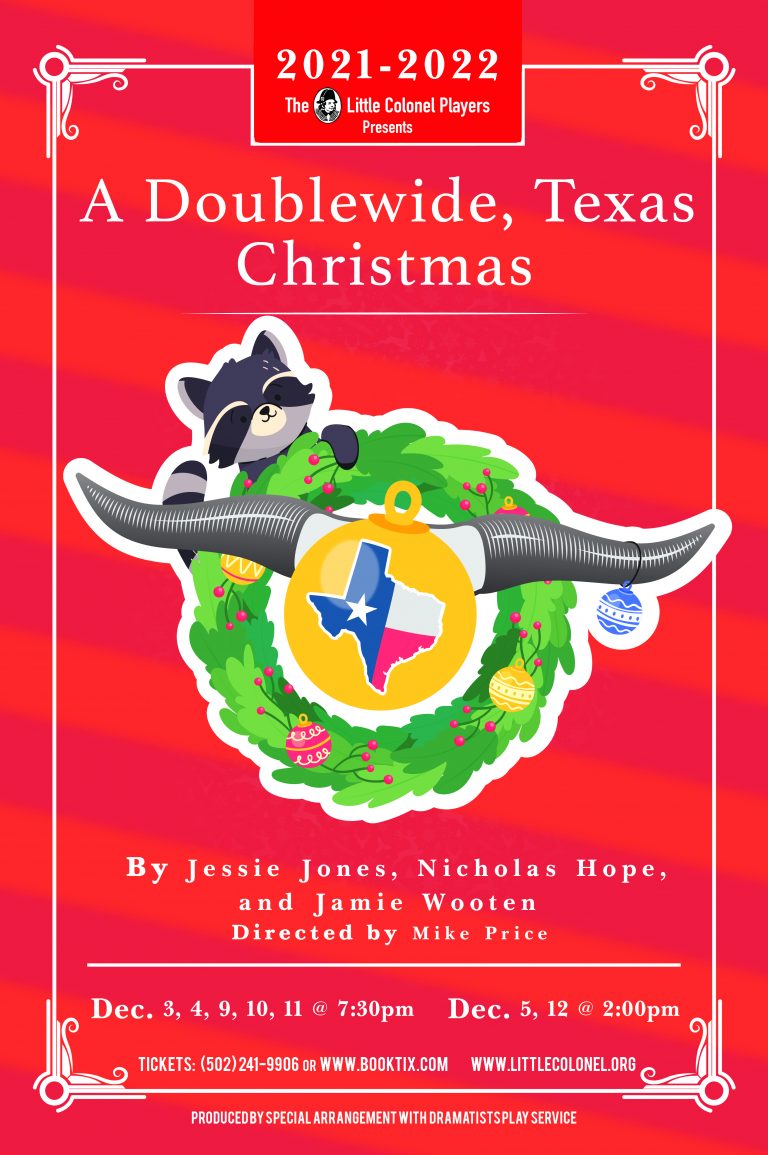 A DOUBLEWIDE, TEXAS CHRISTMAS
By Jessie Jones, Nicholas Hope, and Jamie Wooten
In this outrageously funny comedy, it's Christmas-time in the newest—and tiniest—town in Texas. And it's beginning to look a lot like trouble in Doublewide. Not only are the trailer park residents dealing with the stress of the holiday season, but they've just discovered that Doublewide is being double-crossed by the County. With their official incorporation papers in jeopardy, this band of eccentric Texans throw themselves into taking on the "Big Guys." Determined to bolster their legitimacy, they first set their sights on the County-wide "Battle of The Mangers" competition. They conspire to win this smackdown with their "Nativity At The Alamo" entry…by any means possible.
In addition to that shaky undertaking and trying almost single-handedly to keep the new town afloat, Mayor Joveeta Crumpler has to wrangle her celebrity-obsessed mother, her beleaguered brother who's being bullied by a pack of vengeful raccoons, and her demoralized best friend who's at the end of her rope from dating every loser this side of the Rio Grande. To make matters worse, Joveeta finds herself increasingly wary of the newest resident, Patsy Price. Patsy, fresh out of the local mental institution, clearly has her own devious agenda and the County competition over in Fayro is just the place for her to settle an old score.
By the time this full-tilt rocket ride of lunacy climaxes in a what-else-can-go-wrong live television presentation, you'll have doubled your Christmas spirit. So spend the Yuletide in Doublewide and let this hilarious Jones Hope Wooten Comedy make your Christmas merry and bright…because there's no place like a good ol' Texas-sized mobile home for the holidays!
Suitable for everyone
December 3, 4, 9, 10, 11  Showtimes 7:30 pm
December 5, 12  Showtimes 2:00 pm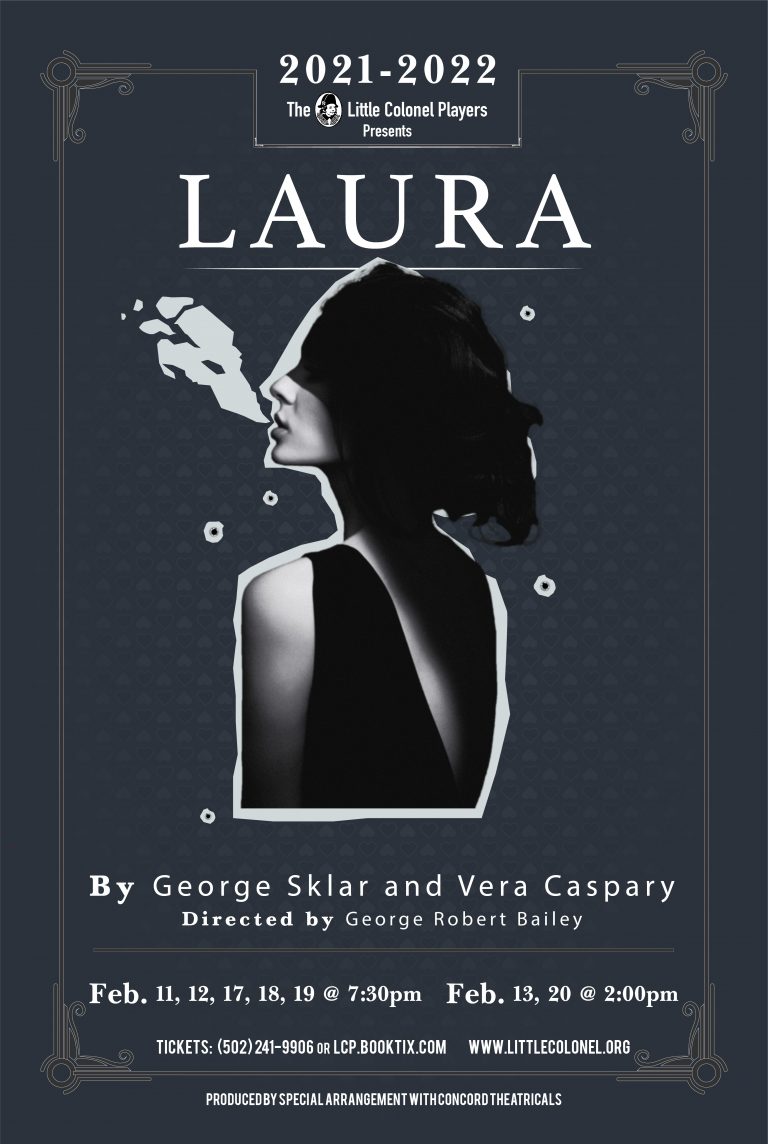 By George Sklar and Vera Caspary
Directed by Martin French
When Mark McPherson first falls in love with Laura, he knows he's in love with a phantom—for Laura is dead, and he's in charge of her murder investigation. From her portrait, her letters, her personal effects and from his contacts with the three men who loved her, Mark has created an image of a woman tantalizingly alive and real. When she appears in the midst of a thunderstorm, very much alive after all, it is revealed that Laura's best friend (and rival) was the true victim of the crime. But now, all evidence seems to point to Laura's guilt. Despite his growing love for her—a love which Laura seems to return—Mark is about to pin the crime on her, when the real murderer appears and tries to do away with the girl he meant to kill in the first place—Laura.
Suitable for everyone
February 11, 12, 17, 18, 19  Showtimes: 7:30 pm
February 13, 20  Showtimes: 2:00 pm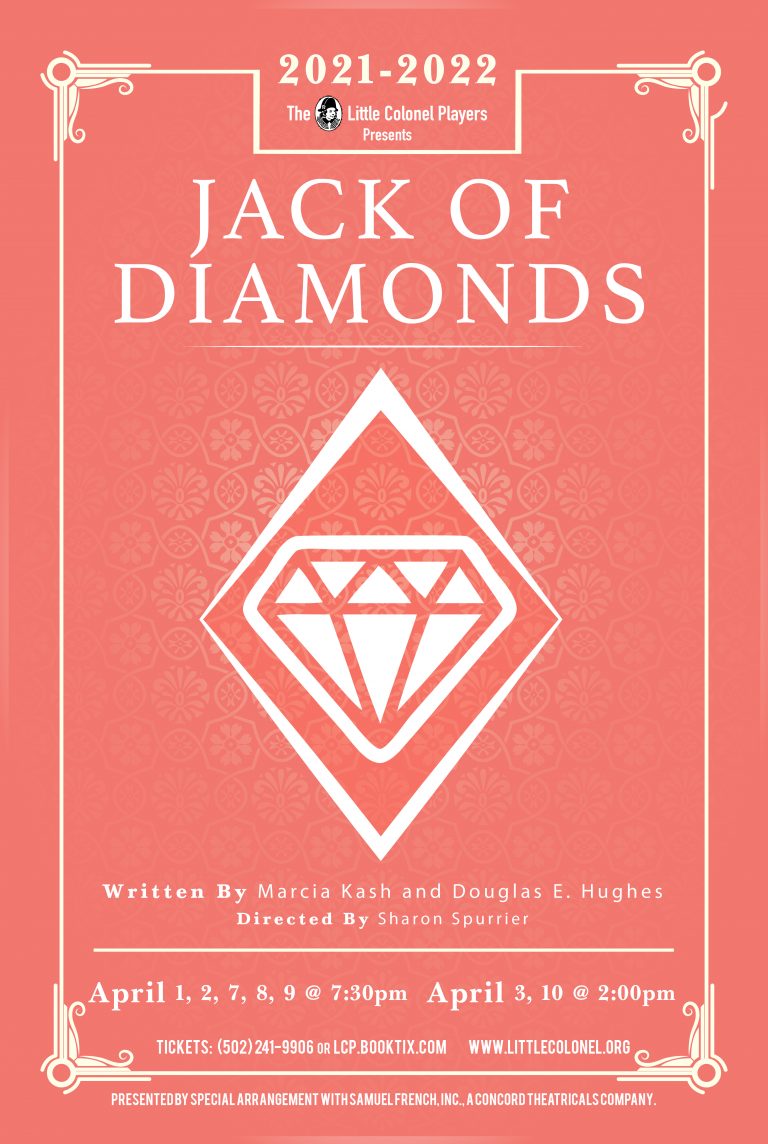 By Marsha Kash and Douglas E. Hughes
Directed by Sharon Spurrier
Jack is a former jeweler who made his living buying and selling diamonds via late-night TV ads. He lives in a rather luxurious, privately-owned retirement home along with his fellow residents: the visually challenged techno-wizard Rose, the artistically gifted but forgetful Flora, and the narcoleptic beauty Blanche. Unbeknownst to the four of them, however, the man to whom they've entrusted their life savings – a smooth-talking financial advisor named Barney Effward – has been arrested for bilking his clients out of their savings through a Ponzi scheme. Faced with financial ruin, the four suddenly find themselves confronting the author of their miserable fate when Effward is unexpectedly delivered among them – along with several million dollars in diamonds. Pandemonium ensues as the four retirees try to find a way to exact their revenge, recoup their losses, and keep the authorities from discovering their plans.
PG 13
April 1, 2, 7, 8, 9  Showtimes: 7:30 pm
April 3, 10  Showtimes: 2:00 pm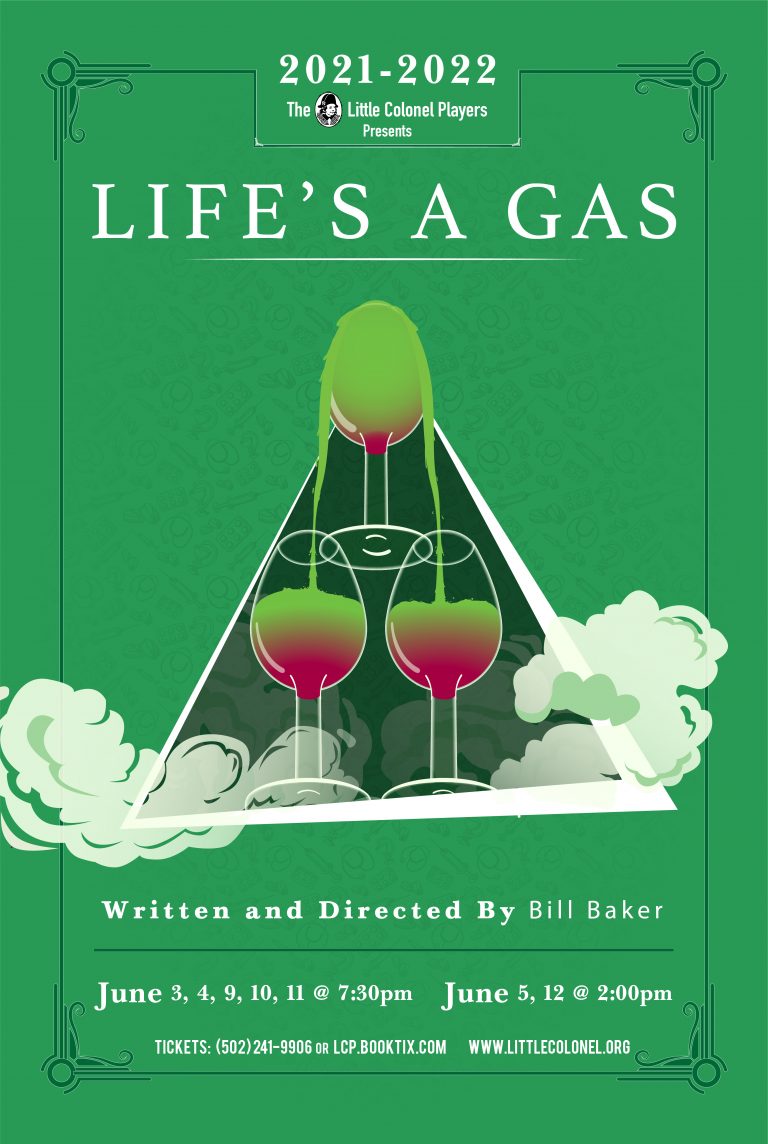 Written and directed by Bill Baker
Rich hosts a dinner party to attract investors for a new food product, with revenge on his mind, for a deal gone bad with his broker, Ed. His secretary, Phyllis, is secretly involved with the broker and having an affair with Rich at the same time, as they scheme to get more money from Rich. Rich's wife is out of town, so Phyllis acts as hostess. There is the disgruntled Professor, the 'expert' who wants more money from the new business than they agreed to, and the broker's wife who knows of Ed's affair with Phyllis. The Doctor attends, as well, since there's free booze. He has been 'advising' Rich's wife to stay in Florida for her health. Poison flows aplenty as revenge is the name of the game. In come two thieves, who get discovered by the guests, one by one. The thieves dispose of the guests with 'knockout gas'. They are found and declared dead by the Doctor, so the 'rookie' detective comes in to investigate. Betrayals, scams and NO2   rule the evening as one hilarious event after another ensues, proving that "Life's a Gas". 
PG 13
June 3, 4, 9, 10, 11  Showtimes: 7:30 pm
June 5, 12  Showtimes: 2:00 pm