(NOT INCLUDED IN SEASON SUBSCRIPTION)
Adaptation for the stage and additional material by Larry Chaney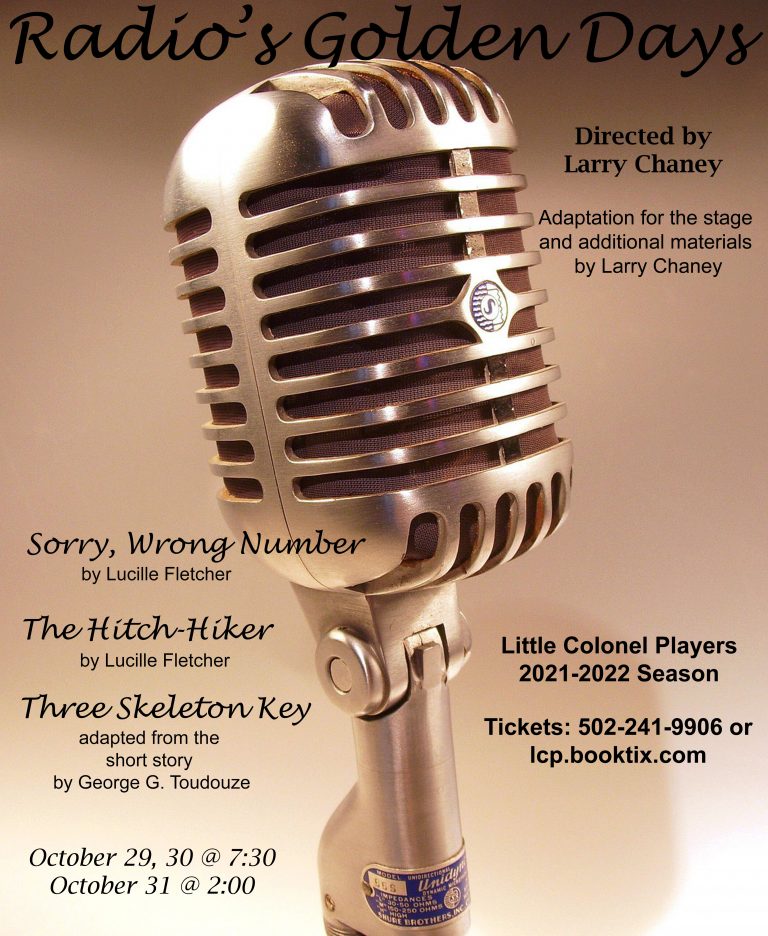 Sorry Wrong Number  by Lucille Fletcher
A mystery thriller; the tale of a neurotic invalid, whose only contact with the outside world is her phone. Over it, one night, because of a crossed wire, she hears plans for a murder, which turns out to be her own. Her frantic efforts to enlist help through the only means at her disposal, her growing terror, and the hints about her own life and personality she lets drop, make this a full character portrait not only of herself but of the unseen murderer, whose identity and motivations are surmised but never revealed. 
The Hitchhiker by Lucille Fletcher
 A ghost thriller. It is the tale of Ronald Adams, an average motorist, who sets out to drive from Brooklyn to California, and early on his journey encounters a strange and inexplicable hitch-hiker. His efforts to explain, then avoid, and finally destroy the constantly appearing figure along the highway carry him through several states until the adventure finally culminates in an amazing and terrifying climax in New Mexico. 
Three Skeleton Key adapted from the short story by George G. Toudouze
Three Skeleton Key is the name of a rock on which a lighthouse rests. Three men man the lighthouse. An abandoned ship, infested with ferocious rats, makes landfall on the rock. A life and death struggle ensues, as the men seek to save themselves from the hungry horde.
All shows suitable for everyone
October 30, 31
(Something extra for the kids)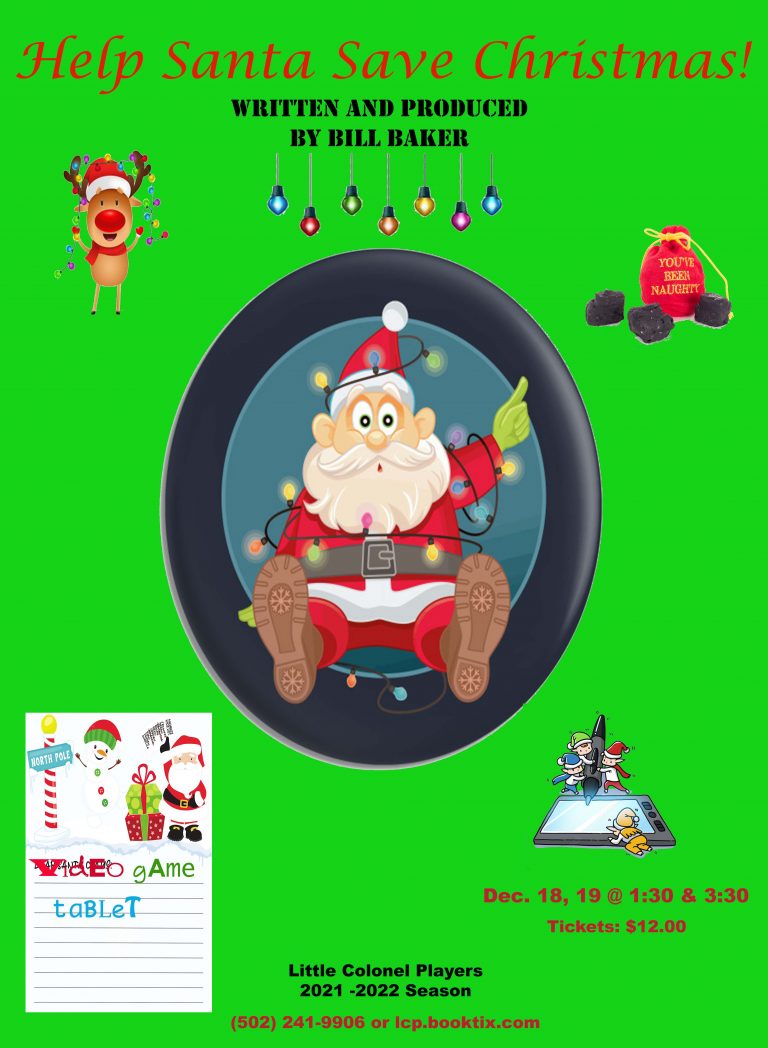 HELP SANTA SAVE CHRISTMAS- Written and directed by Bill Baker
There's trouble at the North Pole this year. Too many good boys and girls are putting a strain on the North Pole. SR enlarges the sleigh for the extra load; then, on a test drive with the new weight, the sleigh runners collapse! Jimmy recommends titanium runners, but they are expensive and must be paid for in advance. The Toy Workshop is behind schedule due to the larger demand for toys. They're not going to make quota, so Santa has TW contact the toy manufacturers to order toys. They can help, but they need money up front. Santa has a budget problem. The bank account is empty and the Kris Kringle credit card has been maxed out. The North Pole has new Wi-Fi. Santa worries too many elves and reindeer's are wasting time online when they should be working. Can Christmas be saved?
Suitable for everyone
Dec 18 and 19 @ 1:30 and 3:30 each day
Tickets $12.00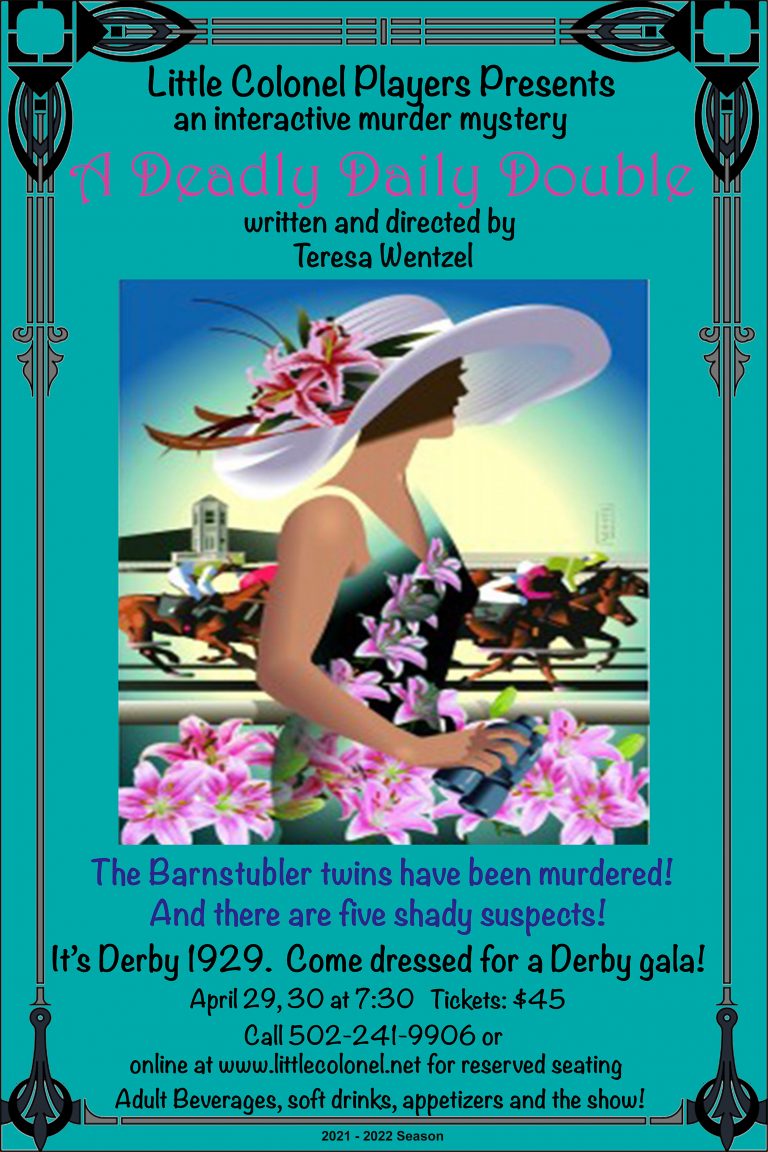 A DEADLY DAILY DOUBLE – Written and directed by Teresa Wentzel
It's 1929 and the Barnstübler twins are throwing their annual Derby gala! Jazz, mint juleps, and celebrities abound!  But somebody wants the dynamic duo dead!  Is it the famous film star Lillian Dish? Or famous author and lush F. Scott Fitzhugh?  Does quick-tempered Sal Capone want them snuffed out?  Then there's the famous, seductive chocolatier and femme fatale Cocoa Chanel.  Last, but far from least, is the romantic ladies' man Rudolph Valentine.  Will Elliot Mess, famous detective, solve the murder before you do?  Come join the fun…and help solve the mysterious murder of the famous Barnstübler twins.  Oh!…and don't forget your Derby hats!!!
Suitable for everyone
April 29, 30 @ 7:30 pm
Tickets: $45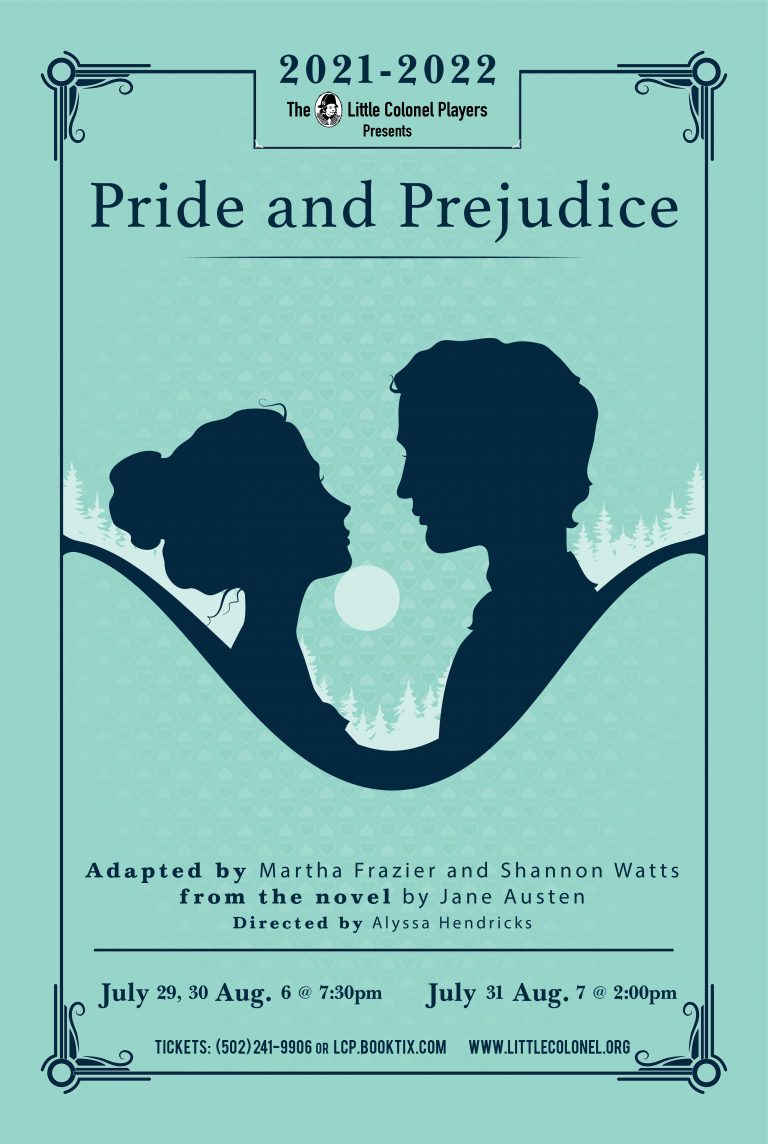 Adapted by Martha Frazier and Shannon Watts from the novel by Jane Austen
Directed by Alyssa Hendricks
Mrs. Bennett is determined to get her daughters married. Jane, Elizabeth, and Lydia are likely-looking girls in a period when a woman's one possible career is matrimony. To be a wife was success. Anything else was failure. Jane and her Mr. Bingley and Lydia with her Mr. Wickham are quite content with things as they are, but not Elizabeth! She actually refuses to marry Mr. Collins, whom she openly deplores, and also refuses Mr. Darcy, whom she secretly adores. This play is the story of the duel between Elizabeth and her pride, and Darcy and his prejudice. Come see how they resolve the duel!
Suitable for everyone
July 29, 30, 31, Aug. 6, 7
Tickets: $13 Adults, $10 Students and Seniors